These PEEPS® Rice Krispies Treats Pops are a fun and easy Easter treat for everyone to share!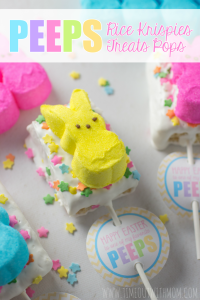 We love Rice Krispies Treats and actually purchase them in bulk (don't judge me). The kids love them and to be quite honest, if you look at the ingredients; they aren't all that bad. I wanted to make something fun for the kids this Easter and thought, what better way than to pair my favorite PEEPS® with my Rice Krispies Treats! You like that rhyming technique? Skills.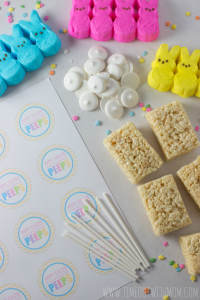 So, to save myself time, I grabbed a bunch from my stash, ripped the wrappers open and got started. Just as I began, I felt like something was missing. So I ran to my computer and made a cute little printable for you put on your pops once they're done. I grabbed my PEEPS®, my candy melts and lollipop sticks and got to work!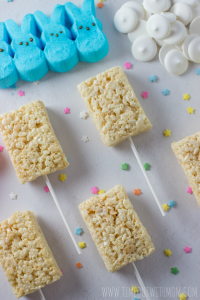 I stuck my lollipop sticks into the Rice Krispies Treats and it was time to get dippin'!
PEEPS® Rice Krispies Treats Pops
Ingredients
8-15 Individually wrapped or homemade Rice Krispies Treats
1 package of bright white candy melts (1 lb.)
1-3 tsp. vegetable oil or shortening
1 jar of sprinkles
2-3 packages of

PEEPS®

Marshmallow Bunnies
Directions
Melt Candy Melts as directed and stir in small amounts of vegetable oil or shortening to thin for adequate coating.
Dip each lollipop stick into candy coating and press firmly, up into each Rice Krispies Treat.
Allow to set as this will provide the support needed when you begin coating your treats.
Dip each Rice Krispies Treat in the candy coating, allowing the excess drip off back into the container.
Place on waxed paper and top with a

PEEPS®

Marshmallow Bunny
Sprinkle with sprinkles, as desired.
Let stand until coating is firm.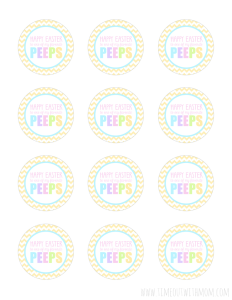 Now, for the tags! You will need the following supplies to create these adorable embellishments:
2 inch circle punch or scissors
Standard hole punch
White card stock paper for printing
My "Happy Easter Peeps" Printable
Each printable is 8″x10″ and can be printed at home or your local photo lab.
Note: Printables/Images are for personal use only. Not for resale.
Print your labels on card stock, if possible. They will hold up better than regular paper
Use a pair of scissors or a 2" circle punch to cut them out
Punch a small hole on the top and bottom to create a slide on tag for each of your lollipop sticks.
Insert each tag onto your pops and voila! You have a beautiful Easter treat for your little ones and their friends! Cute, right?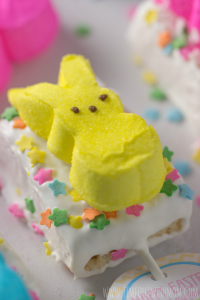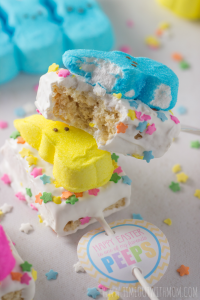 What kind treats do your kids like to eat for Easter?