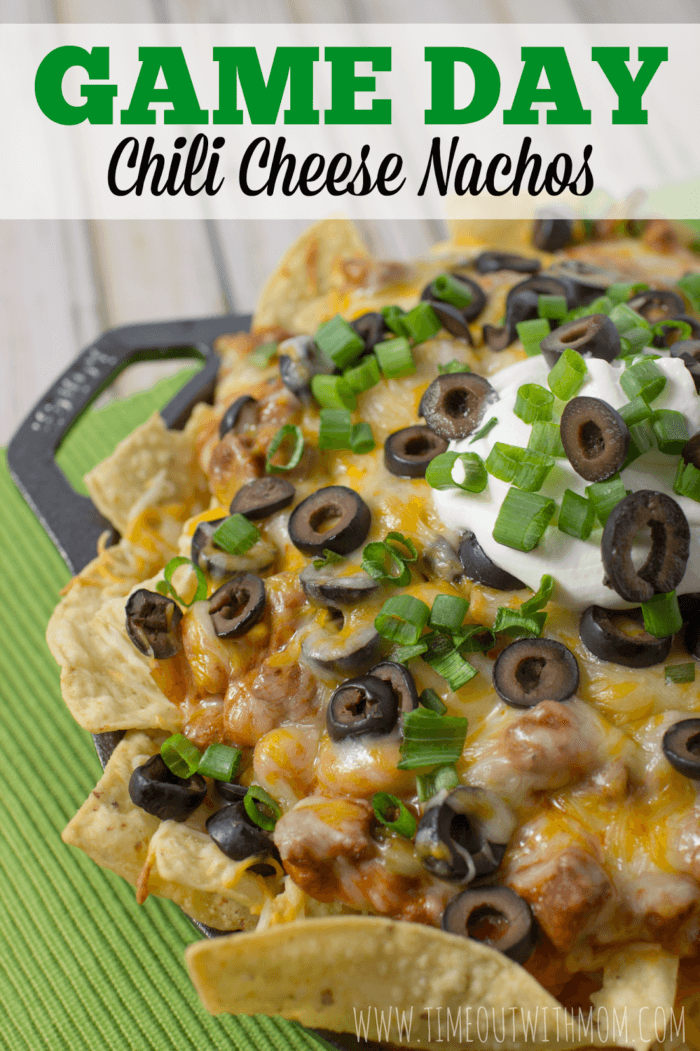 Nachos. Mmmm! One of my guilty pleasures and game day must haves. We hosted a few games at our house this year and everyone always raves about my Chili Cheese Nachos. Usually, by the time I get to them they're almost gone though. That's how good they are! In as little as 30 minutes, you can have some pretty amazing nachos to serve at your next game day or better yet, Super Bowl! So, with the big game almost here, get ready to indulge in some pretty great recipes from yours truly.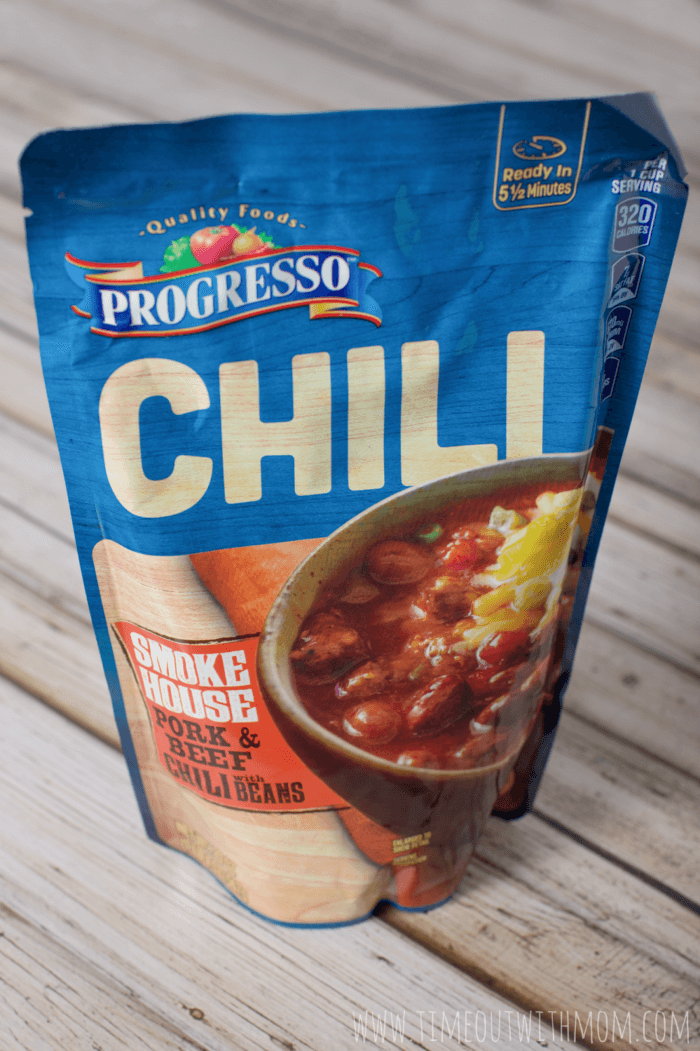 Similar to my Chili Cheese Dip, the trick to making these nachos so quickly is that there is no-fuss in having to make my own chili. While I love getting in the kitchen and making things from scratch, sometimes it's just difficult to do that when you are prepping for more than just your family. Using Progresso Chili makes this recipe a snap! You can it on the soup aisle along with all of your other Progresso favorites for about $4.49 (20-ounce pouch, 2-2 1/2 servings).
For this recipe, I used the Smokehouse Pork and Beef Chili with Beans and I find that it gives my nachos a great flavor. Loaded with fresh cheese and topped with black olives, chives and sour cream, this dish is a touchdown for any game day!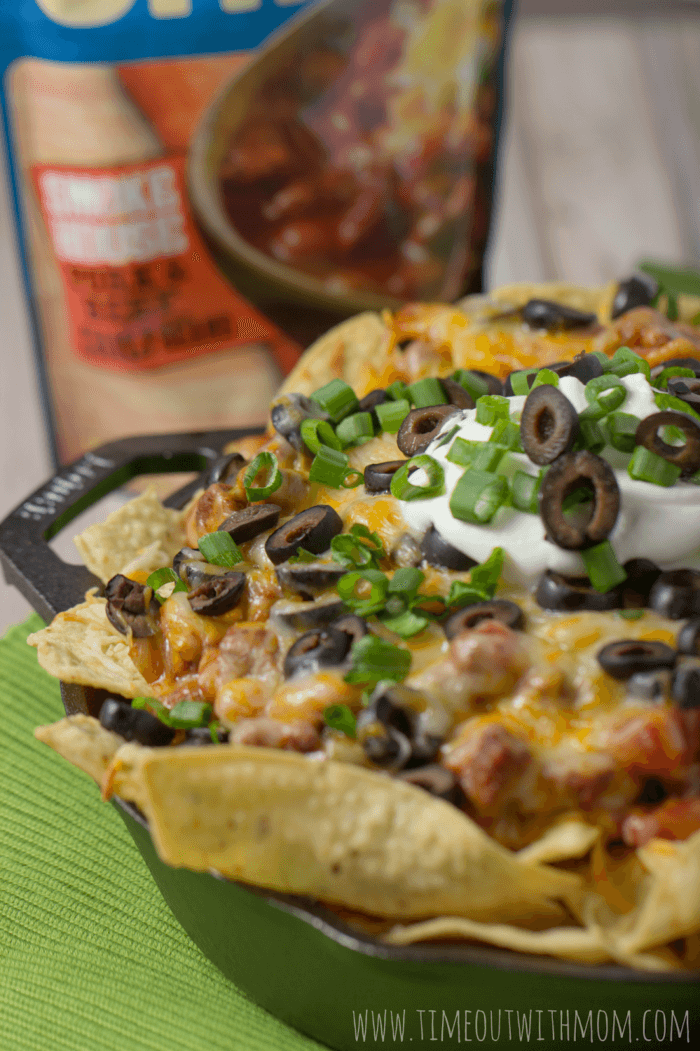 Game Day Chili Cheese Nachos with Progresso Chili
Ingredients
1 pouch, Progresso Smokehouse Pork and Beef Chili with Beans 
1 bag, tortilla chips
2 cups, shredded cheese (I used a Mexican blend)
1 cup, sliced black olives
3-5 green onions, chopped or sliced
2-4 tbsp, sour cream
1/4 tsp of cayenne pepper for an added kick (optional)
1-2 fresh jalapenos, sliced (optional)
Instructions
Pre-heat oven to 350° and line an oven safe dish with a small layer of tortilla chips
Sprinkle a bit of shredded cheese on top and layer with more tortilla chips
Heat your Progresso Smokehouse Pork and Beef Chili with Beans in the microwave for 30-60 seconds and pour on top of your tortilla chips
Sprinkle with cayenne pepper for an added kick, if desired
Add black olives, jalapenos and sprinkle the remainder of your cheese on top of the nachos
Bake until cheese is melted
Top with sour cream and green onions
Serve warm and Enjoy!
https://www.timeoutwithmom.com/2016/01/game-day-chili-cheese-nachos.html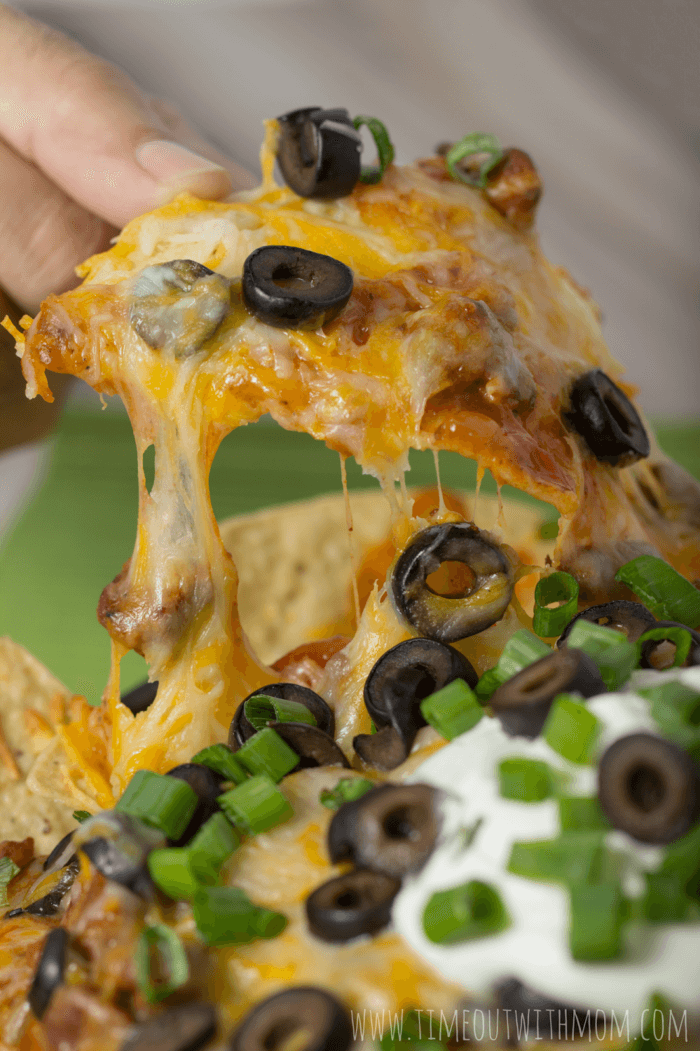 There are more amazing Chili flavors available from Progresso, such as the new Progresso Roasted Vegetable Chili with 3 Beans, which is a meat-free option that includes tomatoes, carrots, roasted corn, red and green bell and poblano peppers and onions; and pinto, black and dark red kidney beans. The other two flavors include the Smokehouse Pork and Beef Chili with Beans that we've used here and the Southwest Style White Chicken Chili with Beans.
Visit the Progresso Game Day website for more information on the entire line of Progresso products, serving ideas and more game day-ready recipes! What fun snacks do you like to make on Game Days?