This post is sponsored by Fox Home Entertainment. However, all opinions are my own.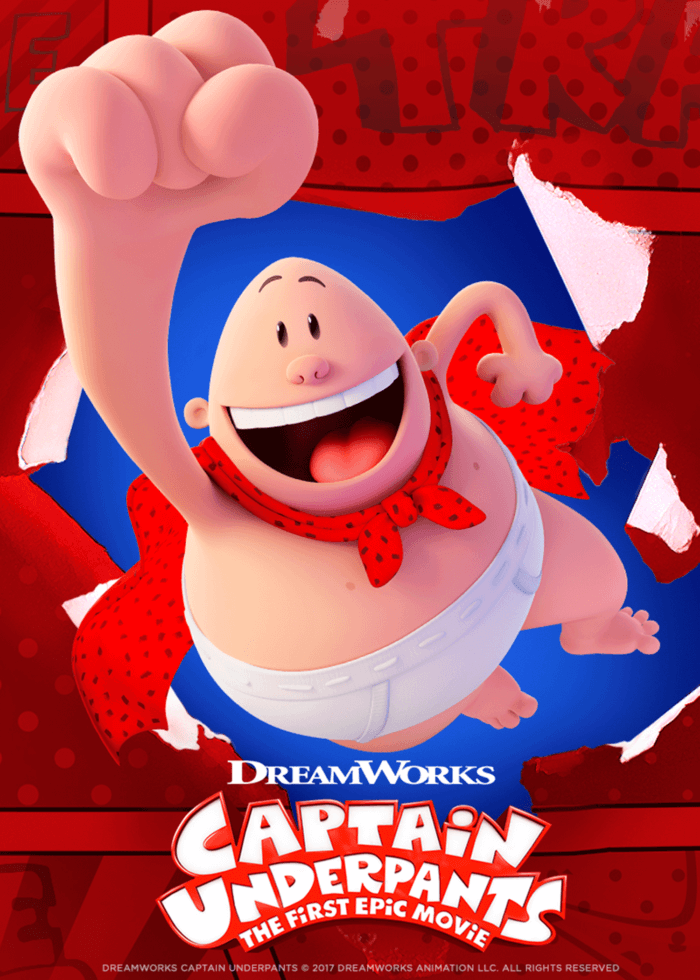 We had great plans for an awesome Movie Night last weekend, but Hurricane Irma wasn't having it. We had to postpone our festivities and it was well worth the wait. We faired well through the storm with minimal damage and were eager to host our movie night the following week after we got our lives somewhat back to normal.
We saw Captain Underpants in the movie theater and I have to say, it was surprisingly funny. My little guy waited all summer for the DVD/Blue-Ray release and was super excited to finally watch it at home (as many times as he wants).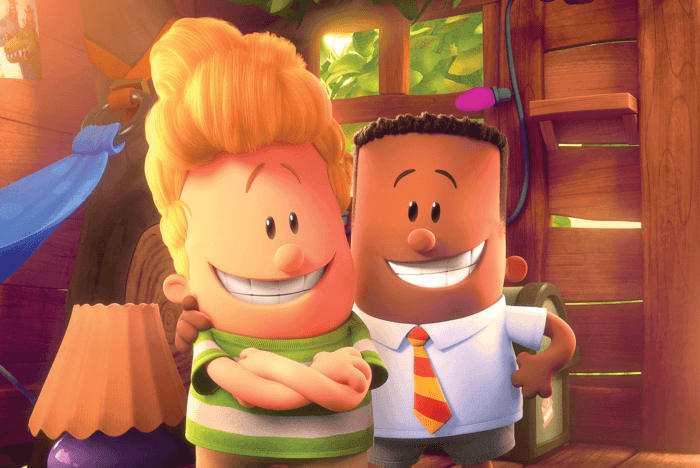 George and Harold are in the fourth grade at Jerome Horwitz Elementary School and have been best friends since Kindergarten. Since they became friends, they have been known for their silly pranks and mischief at school. Once Principal Krupp catches them pranking a fellow student, he sets out to put them in separate classes. Instead, George and Harold realize that they can hypnotize their principal and turn him into the elusive Captain Underpants! With him, they go on an adventure and defeat Professor Poopypants who insists that the world should be rid of laughter. Together, George and Harold shrink Professor Poopypants and destroy the hypno ring with the hopes on changing Captain Underpants back into Principal Krupp.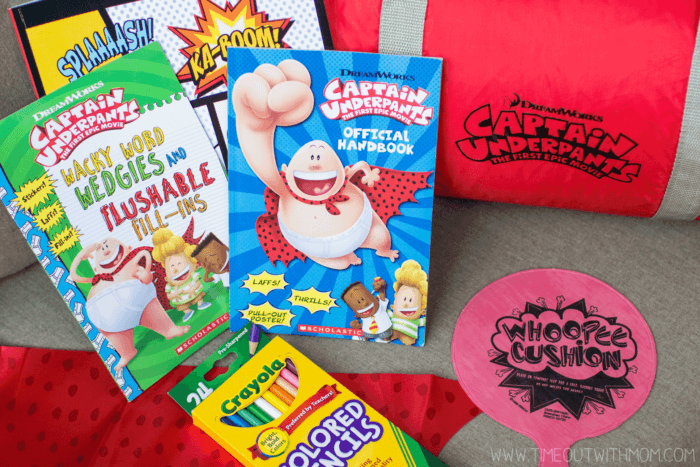 We try to have as many movie nights as we can during the summer, but when school is in session; we try to squeeze one in once a month. This month, the kids obviously chose Captain Underpants and here's some of the goodies they received:
Captain Underpants Overnight Duffle Bag
Captain Underpants Fleece Blanket
Captain Underpants Cape
Captain Underpants Easy Reader Books
Captain Underpants Activity Book
Make Your Own Comic Book
Colored Pencils
Whoopee Cushion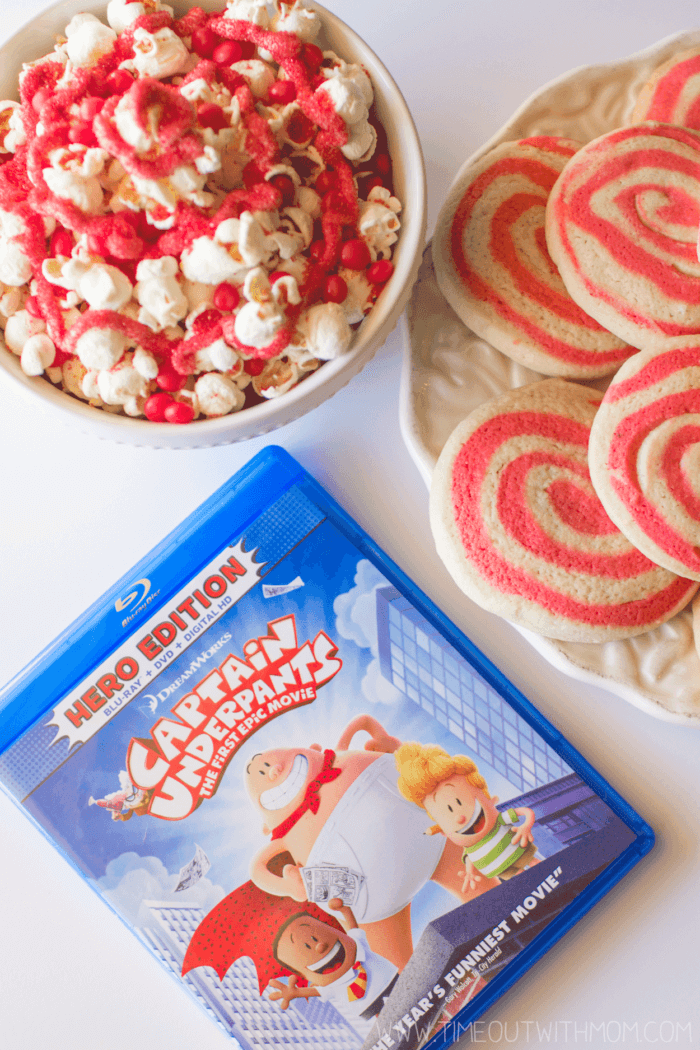 Now, what is movie night without snacks? We made hypno popcorn and hypno ring cookies! Both were so much fun.
For the popcorn, just pop some of your own or grab a back of prepopped popcorn. Top with cinnamon red hots and red melting chocolate, such as candy melts. Sprinkle with red glitter sprinkles and enjoy!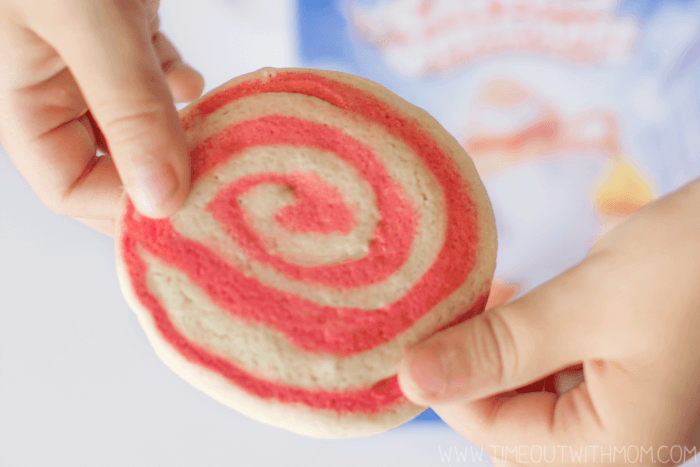 Finally, for the cookies, Here's what you'll need:
5 cups flour
2 tsp baking powder
1 tsp salt
1 1/2 C butter, softened
2 cups sugar
4 eggs
1 tsp vanilla
Red gel food coloring
Get Started!
In a large mixing bowl or stand mixer, cream the softened butter with the sugar until smooth.
Add eggs and vanilla. Mix well.
In a separate bowl, mix together the flour, baking powder, and salt.
Add the dry mixture to the wet mixture and continue mixing until all ingredients are combined.
Divide the dough in half and place in separate bowls.
Add red food coloring to one bowl and knead until the color is well distributed.
Roll each bowl of dough into a ball and wrap in wax paper or plastic wrap.
Refrigerate for at least 1 hour.
Sprinkle counter or cutting board with flour.
Cover first ball of dough with flour and roll with a rolling pin.
Cover the second ball of dough with flour and roll with a rolling pin in another area.
 Use a spatula to lift the red dough off of the counter and gently lay it on top of the white dough.
Use the rolling pin to roll the two sheets of dough together and cut away any extra dough, leaving only a rectangle shape.
Roll the layered dough into a log and wrap it with wax paper or plastic wrap. Be sure to cover the ends of the log so the dough does not dry out.
Place dough in the freezer for 1 hour.
Pre-heat oven to 325°.
Remove the dough from the freezer and remove the covering.
Using a sharp knife, cut the dough into 1" round slices.
Place the slices of dough on a wax paper lined cookie sheet.
Bake for 12-14 minutes.
Allow to cool and Tra-la-laaa! EPIC Hypno Ring Cookies!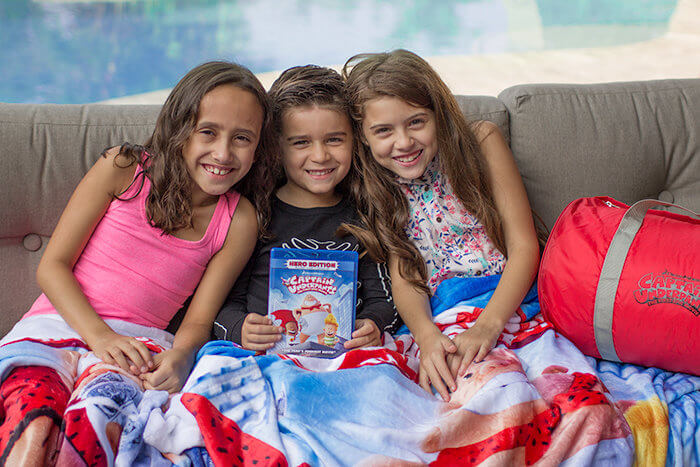 Captain Underpants: The First Epic Movie is a great movie for the whole family! Own it today on DVD or Blue-Ray.