This shop has been compensated by Collective Bias, Inc. and its advertiser. All opinions are mine alone. #GIVEEXTRAGETEXTRA #Walgreens #CollectiveBias
Year after year, I struggle with finding the perfect gifts for Bunbun's teachers. Everyone always seems to give the same gifts time and time again and I try my best to be unique and give gifts they have not have received in the past. I did spend my time looking at these 37 Creative Gift Ideas For College Professors to see if I could get any inspiration, but I think I'll save that for when Bunbun is a lot older (and is actually at college).
This year, I decided to create a fun (but easy) teacher emergency kit, which I am excited to share with you today. It's an excellent gift for your child's teacher; whether it be for teacher appreciation week, a birthday or just because. It's also great for the older kids that may have a locker at school.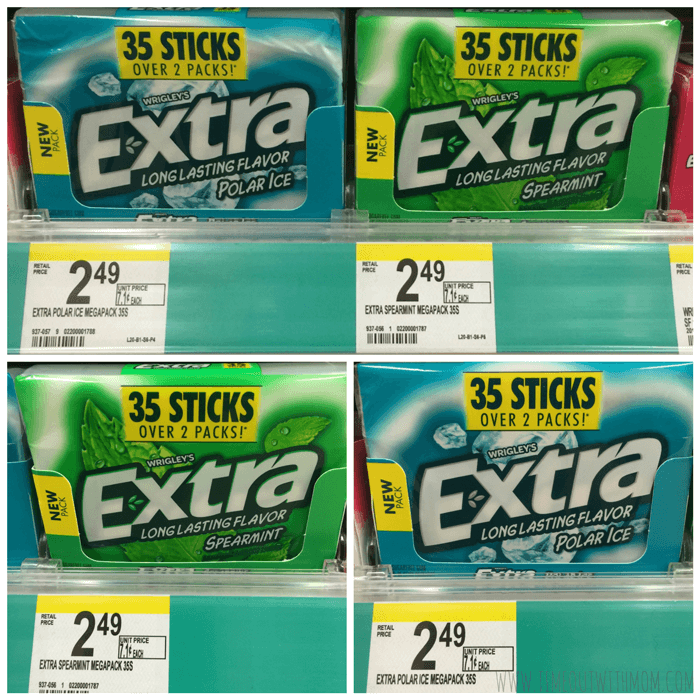 I had an idea of what I wanted to include in my kit, so I went to Walgreens to pick up a few items. While on the gum and candy aisle, the new Extra® 35-stick packs caught my eye. They come in two different flavors; Spearmint and Polar Ice®. Both in a small plastic, yet durable type case which is convenient and can totally be recycled and re-purposed once the pack is gone.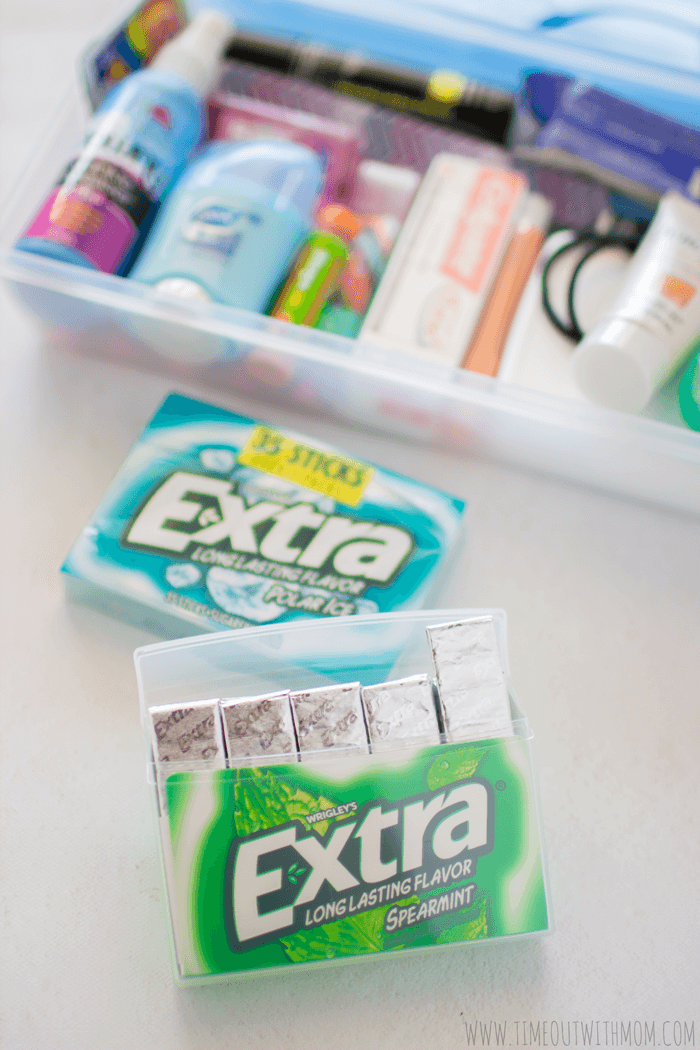 I knew I was going to include gum in my kit and since these come with more gum than the standard packs, it was a no-brainier. I grabbed two so I could "Give Extra, Get Extra." One for the kit and one for me, of course!
Here's what I included in my kit:
On-the-go stain remover wipes
Stain remover pen
Disinfectant spray
Protein Bar
Tissues
Hand Sanitizer
Lotion
Hair Spray
Wrinkle release spray
Band-aids
Pain Reliever
Mouthwash
Toothbrush
Toothpaste
Deodorant
Nail File
Lip Balm
Hair Ties
Gift Card
Once I had everything I wanted to include inside the box, I created these teacher emergency kit labels, cut them out and attached them to card stock with my glue stick. Just make sure to get some good stuff for the kit too. Getting proper Hand Sanitizer is important, as one example. If you get weak stuff it won't work well enough.
Each printable is 8.5?x11?
Note: Printables/Images are for personal use only. Not for resale.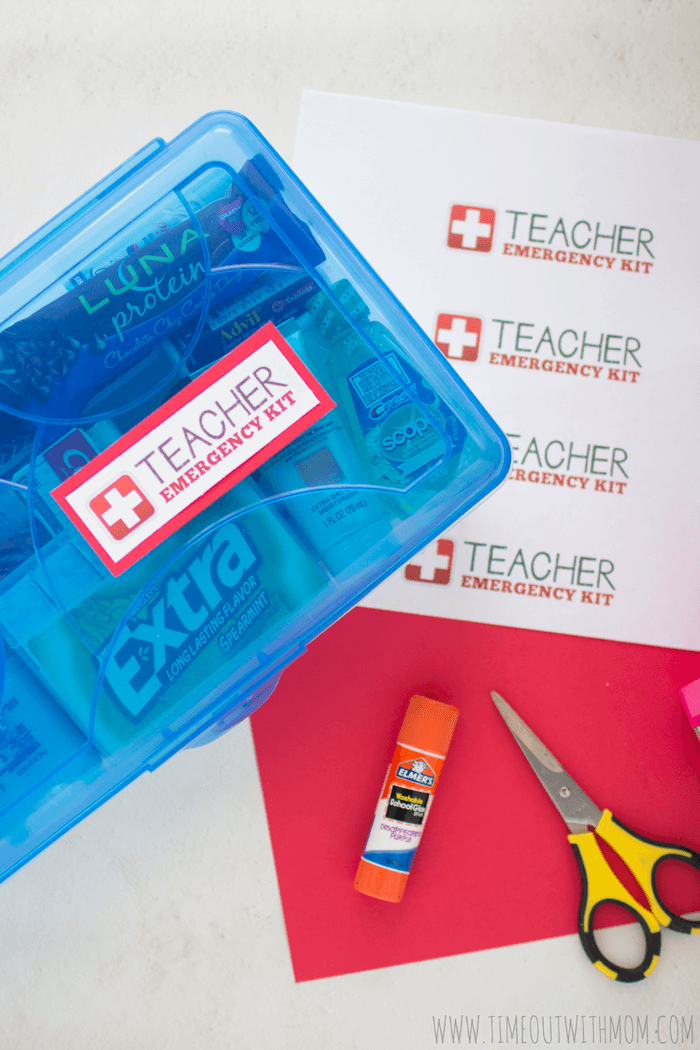 I then used some adhesive to adhere the label to the plastic so it wouldn't fall off. With that personal touch, I gifted it to one of Bunbun's teachers.
Show your child's teacher that you care with a teacher emergency kit!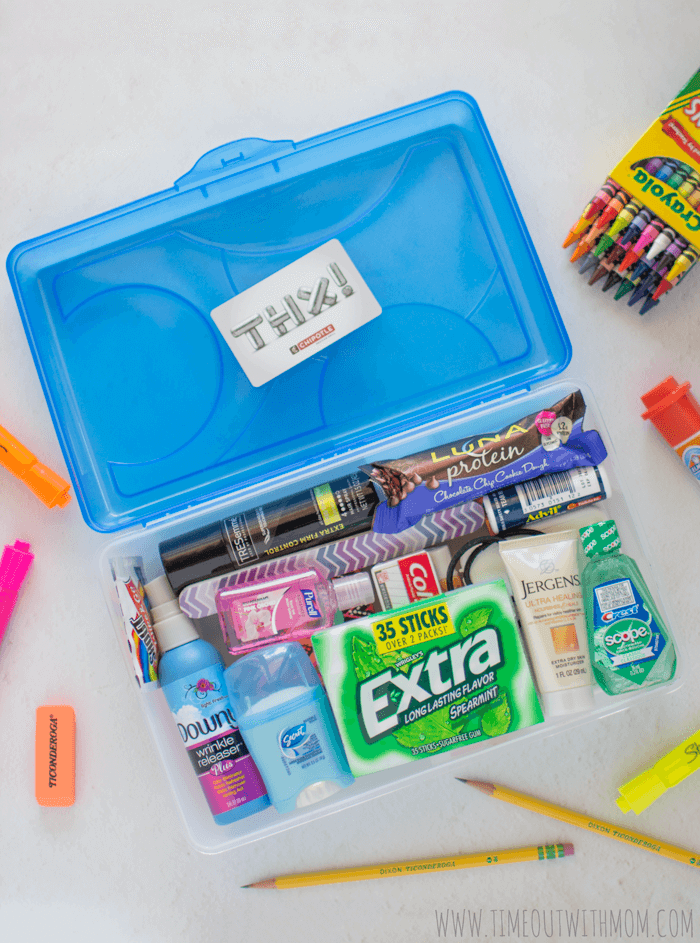 What will you include in your teacher emergency kit?