This is a sponsored post on behalf of Orkin. All opinions and views are my own.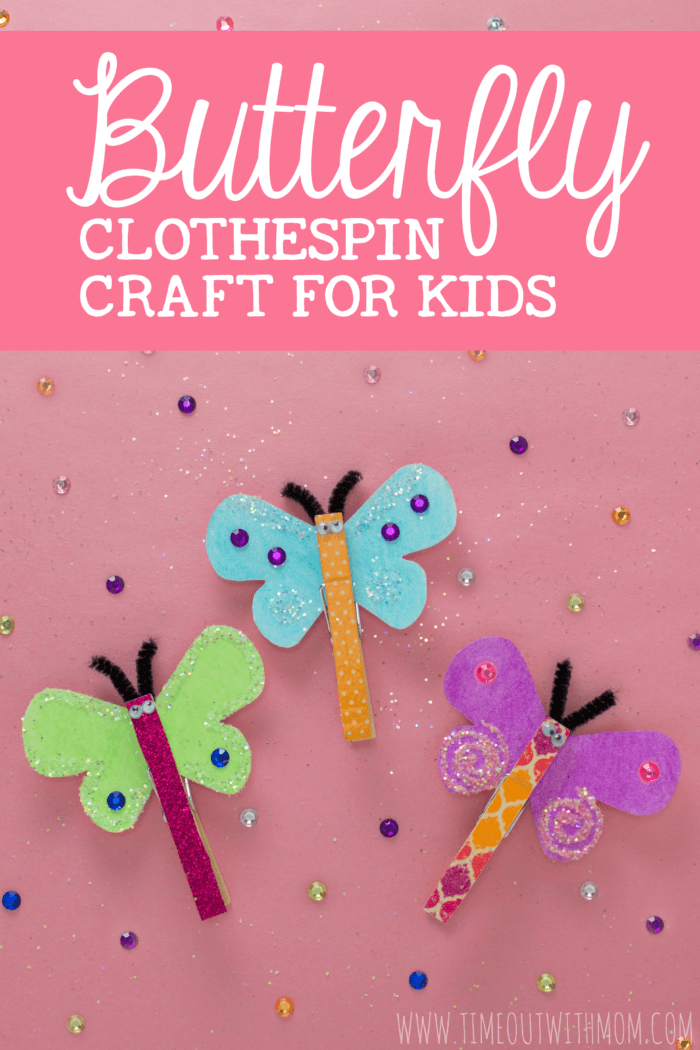 Summer is almost here! It's so close, I can smell it and Bunbun and I are counting down the days. It's been a rather rough school year and both of us are just about ready for it to be done. With that said, we're ready for some fun and new beginnings. Summer for us brings lots of friends, crafts, swimming, BBQ's, soccer training camp and lots of outdoor fun!
The one thing that always seems to get us in the summer is mosquitoes! They are annoying little creatures that seem to always find us. Bunbun has some pretty bad reactions to mosquito bites so we always have to be on top of the situation.  Fortunately, the experts at Orkin study the science of mosquitoes and other pests closely in order to better tailor plans that help keep them out of our homes this summer.
Before we get to this fun craft, help prepare your family against those pesky mosquito bites this summer by taking the Orkin BUZZER BEATER Quiz below and don't forget to enter my giveaway when you're done. One lucky winner will win an Orkin Mosquito Summer Scientist Prize Pack!
Okay! Let's get started with our Butterfly Clothespin Craft. It's perfect for children of all-ages, even the itty-bitty ones! Not only is this craft fun to create, its great for little ones who are working on pincer grasp, finger strength, fine motor and cutting skills. With minimal supplies, this activity can be done over and over again!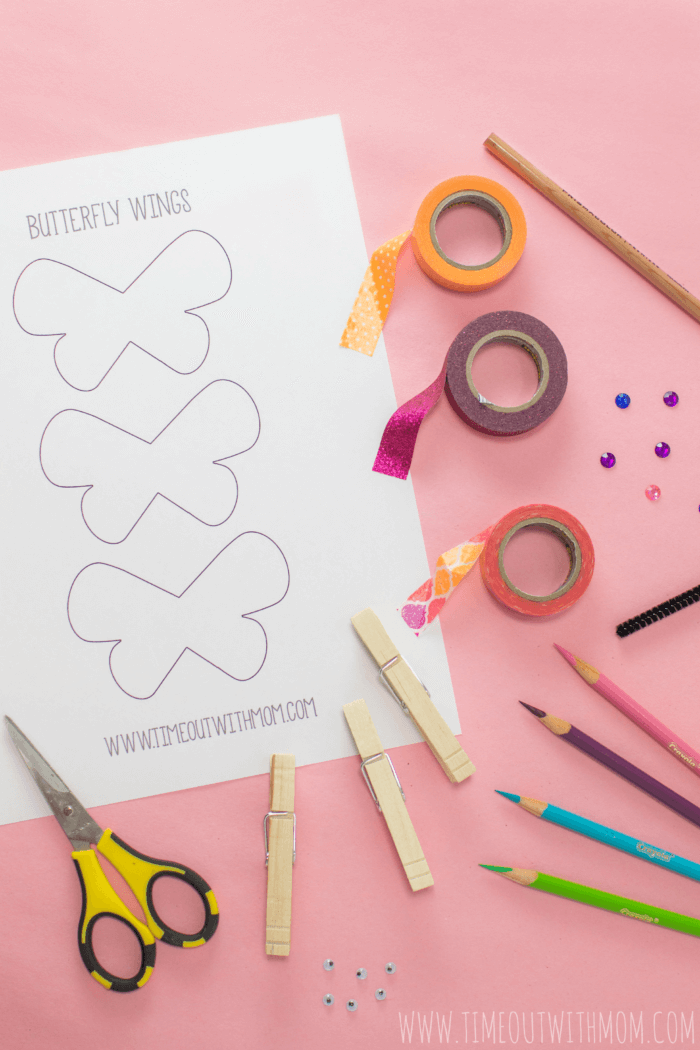 Here's what you'll need:
Standard Clothes Pins
Washi Tape
Butterfly Wings Printable
Colored Pencils
One Black Pipe Cleaner, cut into 1 1/2″ pieces
Googly Eyes
Glitter and Gems (optional)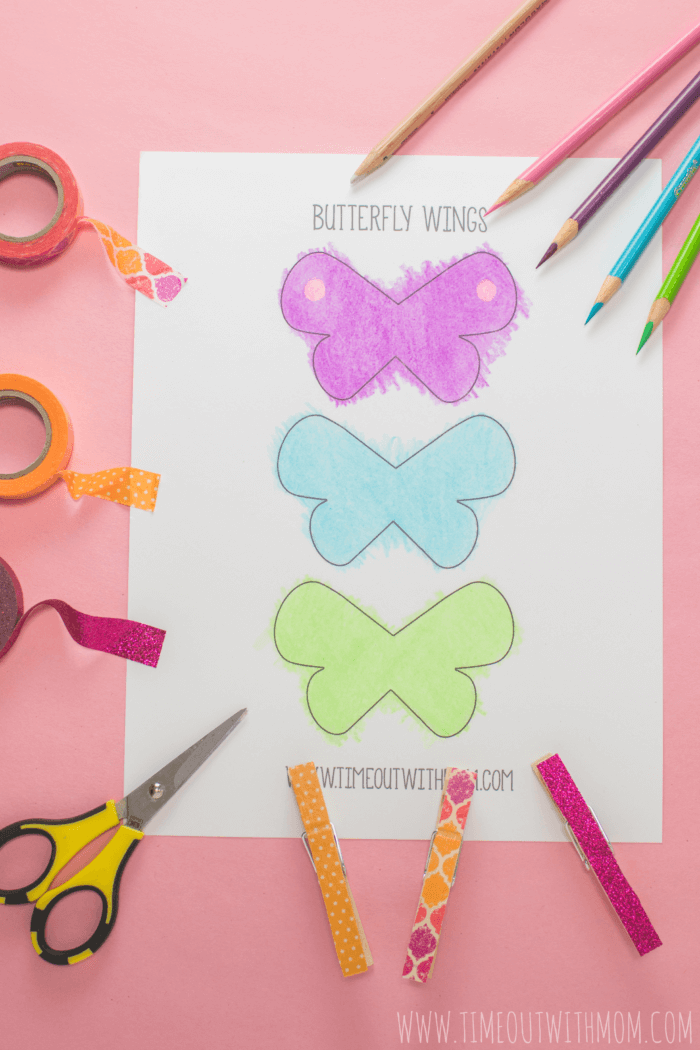 Begin by downloading and printing my Butterfly Wings Printable or create your own wings.                                                                  DOWNLOAD THE PRINTABLE HERE **
Color your wings however you'd like. Get creative and draw patterns, shapes and more! Experiment with different mediums such as colored pencils, markers, paint, watercolors, etc. There are so many ways to create your butterflies.
Once you've finished coloring the wings, cut them out and decorate with additional items such as gems and glitter.  Set aside to dry.
Attach your washi tape to the clothespins and trim the excess with scissors or a craft knife.
Add a dab of glue to the top and attach your googly eyes.
Bend your cut pipe cleaner in half to make a "V" shape and slide your colored wings into the clothes pin.
Finish by clipping the folded pipe cleaner with the clothes pin or hot gluing it to the back for a secure hold.
Want to take your Butterfly Clothespins to the next level? Add a magnet to the back for a cute Mother's Day gift!
** Each printable is 8.5″x11″ and can be printed at home or your local photo lab. Note: Printables/Images are for personal use only. Not for resale.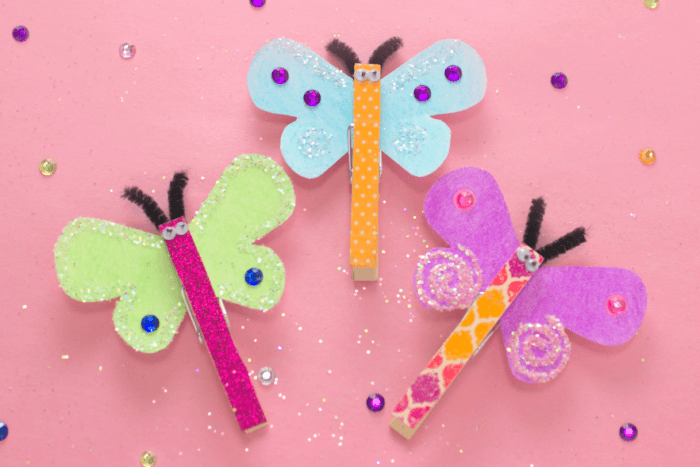 Now, who's ready for a Giveaway?

Enter to win the Orkin Mosquito Summer Scientist Giveaway!
Each Prize Pack includes:
2 Bug Catcher Craft Kits: These awesome DIY bug catcher kits will let your family's personality shine through while also learning about nature and the world around us. The kits include a variety of foam ladybugs, dragonflies and more!
2 Bug Nets: Explore the great outdoors with these fun mesh insect nets. They can be used to collect and study butterflies, ladybugs, caterpillars and many other backyard creatures.
2 See-Through Bug Jars: Reveal the wonders of your backyard with these clear bug jars. Each transparent plastic box has a magnifying lid for better insect viewing. Young explorers love discovering worms, butterflies, ants and insects. These containers allow them to make homes for their new discoveries.
2 Magic Color Scratch Little Garden Critters: Scratch faces, designs and more on these Magic Color Scratch Little Garden Critters! A perfect kids' activity for critter lovers, simply scratch away the black coating to reveal vibrant rainbow colors. Includes butterflies, frogs, turtles and more.
Glow-in-the-Dark Creepy Crawlers: Turn off the lights and let them glow! These vinyl glow-in-the-dark bugs are lots of fun for all ages.
Giveaway is open to all U.S. residents.
Each household is only eligible to win Summer Scientist Bug Catching Kit via blog reviews and giveaways. Only one entrant per mailing address per giveaway. If you have won the same prize on another blog, you will not be eligible to win it again. Winner is subject to eligibility verification. Giveaway will end on 5/10 at 12am EST. All prizes will be fulfilled by the sponsor. 
Orkin uses the latest technology and unparalleled training to develop an effective treatment that's right for your needs. To learn more about their pest control based in science or to schedule an inspection, visit orkin.com or call 1-800-800-ORKIN.