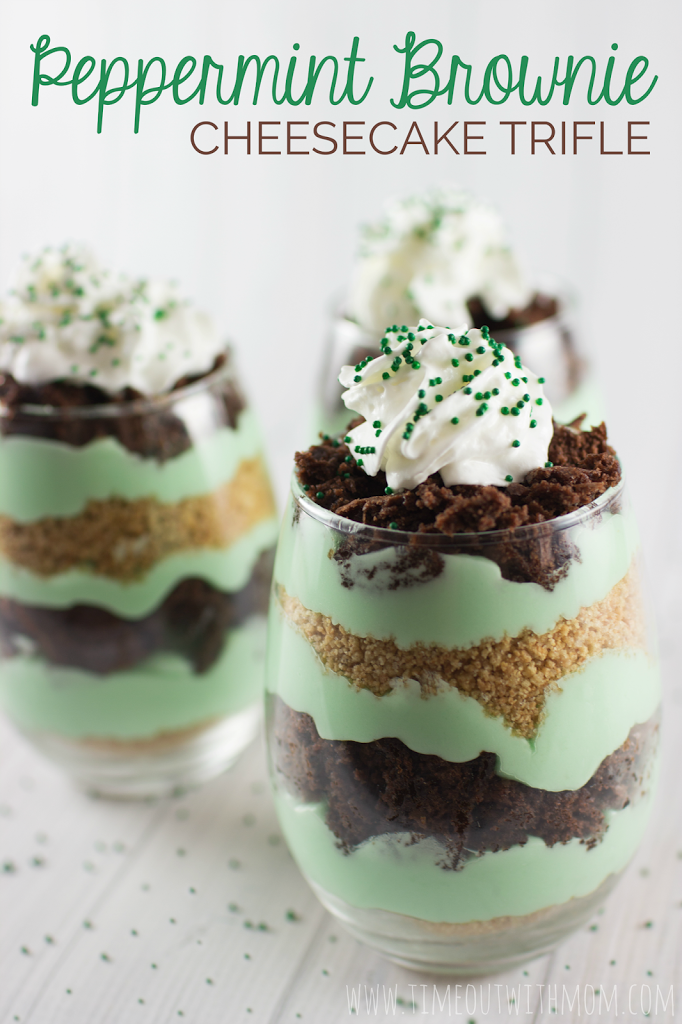 All I have to say is…if you like mint, you're going to LOVE these Peppermint Brownie Cheesecake Trifles. They remind me of Girl Scout Thin Mint cookies. Dellicious layers of no bake peppermint cheesecake, brownies and graham crackers, topped with whipped cream and a dash of sprinkles make this treat perfect for St. Patricks day. Especially if you're looking for some green.

Easy to make and ready in a short time, these trifles are the perfect dessert! For the graham cracker crumble layer, I crushed graham crackers in my food processor and added a bit of butter and sugar to make it crumbly. The cheesecake layer is a simple no-bake recipe with a small amount of peppermint extract and coloring. This addition is what gives the cheesecake its taste. Be sure to add the correct amount because it is a perfect balance between the cheesecake and peppermint flavor. The brownie layer is just a quick box mix, baked in a 9×9 pan and cut into small squares once cooled. I used a mix with fudge in it, because I feel like they always come out soft and chewy (just the way I like them). Layer all of these on top on each other and top with any whipped topping of choice and sprinkles for a delicious dessert.
The little ones and I loved these! It really is the perfect combination. And I'm not just saying that!
I used small wine glasses for this recipe and had just enough to make three trifles. If you plan to make more than that or use bigger glasses, double the recipe so you have enough.
Check the recipe out below and let me know what you think!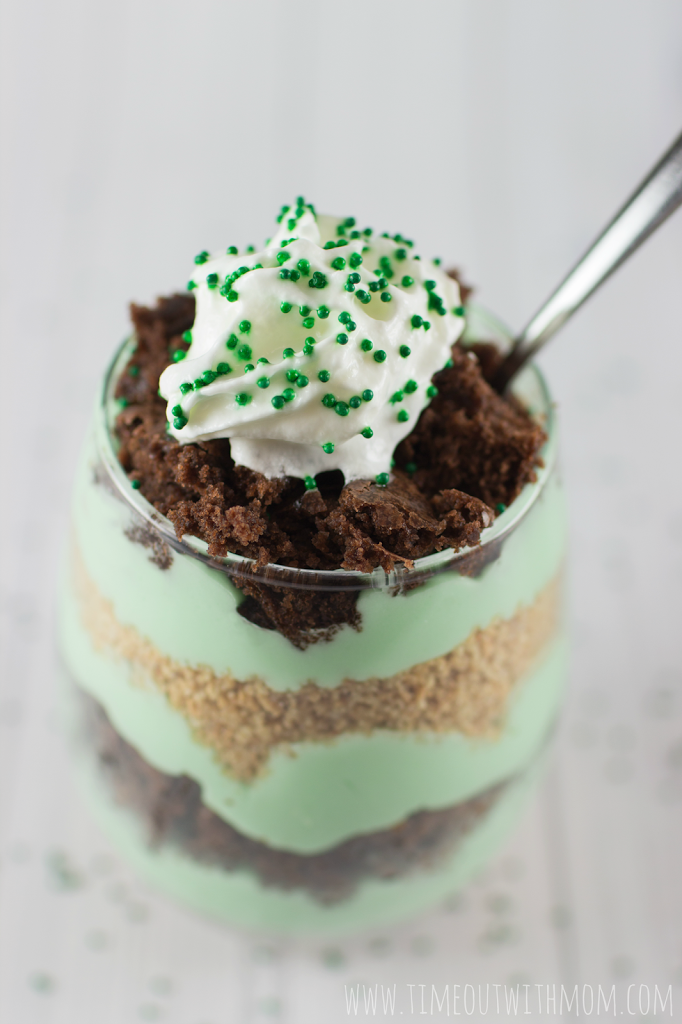 Peppermint Brownie Cheesecake Trifle
Graham Cracker Crumble
9 Graham Crackers
3 tbsp butter, melted
2tbsp sugar
Peppermint Cheesecake
16 oz. cream cheese, room temperature
1 cup sugar
1/2 cup powdered sugar
1 tsp peppermint extract
6 drops green food coloring
Brownie Squares
Brownie Mix
Oil
Water
Eggs
Bake brownies as directed on box and set aside to cool.
In a food processor, break graham crackers into pieces and process until finely chopped.
Add butter and sugar, mixing until combined and set aside.
In a medium/large bowl or stand mixer, beat cream cheese until smooth.
Add sugar, powdered sugar, peppermint extract and food coloring.
Mix until well combined and set aside.
Using your dessert glasses, add a layer of the graham cracker crumble.
Next, add a layer of the cheesecake mixture.
Top the cheesecake with small brownie squares and add another layer of cheesecake, followed by more graham cracker crumble.
Repeat another layer of the cheesecake and top with small brownie squares.
Refrigerate trifles until firm, about 30-60 mins.
When ready to serve, add a bit of whipped topping and sprinkles for garnish.
Enjoy!
Tip: Spoon your cheesecake mix into a ziploc bag and cut the tip off to pipe the filling into your glasses. This allows for better control and less mess!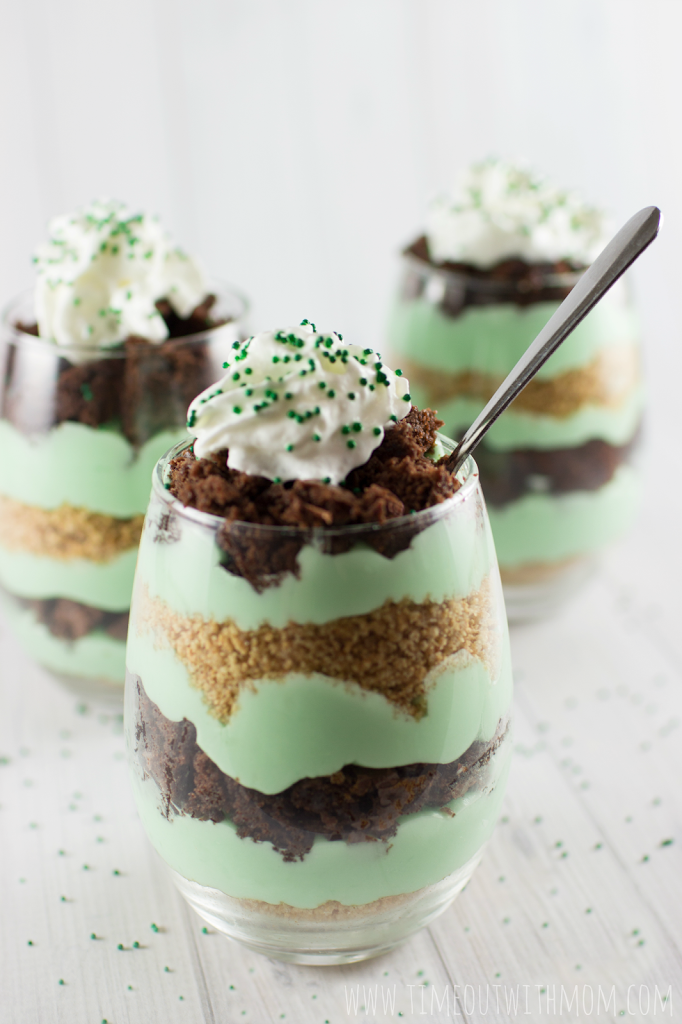 Well, what did you think? Sound off below!