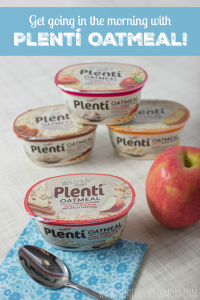 Most days of the week, getting up is a struggle for me. I've never really been a morning person and now that i have a child in school, I don't have much of a choice. Next year, I'll have two children in two different schools. Wish me luck!
This year, I made my first ever New Years resolution that I didn't ditch in a weeks time. I vowed to take better care of myself, do things for myself more and change my eating habits. Truth is, I've gained a considerable amount of weight since having my thyroid removed due to cancer and getting energized in the mornings has been a steady, ongoing battle. Many people always ask me how I can survive without my
thyroid
, but there are actually a lot of people who continue to live a normal, healthy life after having this gland removed. There are multiple hormone replacement medications that can be taken to try and replace the hormones that your thyroid can no longer produce. Other than that, I'm living the same sort of life. Anyway, let's not even talk about what I call the "
3pm
shutdown".
Over the past few weeks, I have moved over to a cleaner diet. I'm eating a lot of fresh foods, veggies and fruits. In the morning I usually have some
oatmeal with yogurt and fruit
, lunch is an open faced turkey sandwich on whole wheat and dinner is a fabulous pita pizza! They say breakfast is the most important meal of the day, so you have to keep it healthy!
I recently discovered
Plentí oatmeal
and have been hooked since. I no longer have to prep the night before, which is great, because I am always exhausted. My yogurt, oatmeal and fruit is now all in one little cup! I can take it on the go if I need to and cleanup is as simple as putting a spoon in the sink.
Plentí is oatmeal reinvented and taking the oatmeal game to a new level by mixing the texture and goodness of oatmeal with the creamy awesomeness of Greek yogurt. Plentí Oatmeal Meets Greek Yogurt can be found in the yogurt section of your local grocer. In 6 great flavors such as; Maple Brown Sugar, Apple Cinnamon, Vanilla, Strawberry, Blueberry and Peach. With each oval-shaped cup containing 16 grams of whole grain and 11 grams of protein, Plentí Oatmeal is the ticket to a healthy breakfast that will get you going!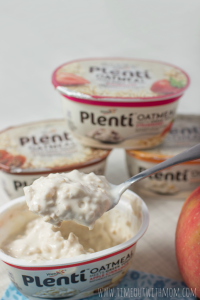 Ready to try
Plentí

Oatmeal?
In the meantime, here are some tips to get you going in the morning:
Take a shower: Taking a shower in the morning is a great way to wake up and feel refreshed!

Eat a healthy breakfast: Don't skip it! Your body needs fuel to get you through, so make sure you're giving yourself the proper nutrition.

Drink a glass of water: I have to drink a glass of water every morning to take my pill, but I find that it perks me up a bit. Drinking water throughout the day will not only keep you hydrated but will keep your energy levels up and curb hunger. Now, if you have digestive issues, you can also try taking prebiotic supplements that are available in reputed clinics. For example, dr gundry supplements for better digestion can be taken every day for better digestion and overall health.

Open your windows: Let the sunshine in! Did you know that the sun is a natural energy and mood booster? Soak it up in the mornings, if you have the time. It's usually still very early when we leave for school, but when I hit my

3pm

shutdown, I usually take a break outdoors for about 15-20 mins. It usually gets me out of my rut and back on track. It's amazing what a little sunshine can do for you!

Listen to music: We love listening to our favorite songs on the way to school each morning. We sing and dance in our seats and everyone looks at us like we're nuts! Well, not everyone, but we have had some looks. But that's okay, because when I drop Bunbun off for school, she kisses me goodbye with a huge smile on her face. And I know that she's going to have a good day. I'm a firm believer that music can alter your mood.
What helps to get you energized in the morning?